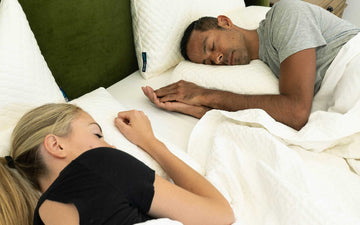 GET BETTER SLEEP
WITH SIDNEY SLEEP
Curved shape for optimal neck support
Adjustable to all sleep positions
Hypoallergenic so great for allergies
Machine Washable
Why Choose Sidney?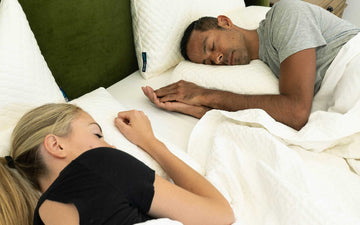 US vs THEM
SIDNEY
SLEEP
Zoey
Sleep
Coop
Home
Layla
Sleep
Nest
Bedding
Casper
Pillow
Curved shape for optimal Neck Support
Adjustable to match your sleep position
Affordable Price
$59.99
$110
$96
$89
$109
$65
Hypoallergenic & Antibacterial
Machine Washable
Over 1000 Satisfied Sleepers
Highly Recommend
"The Sidney Sleep Pillow is the first pillow that I can say makes me look forward to going to bed. I wholeheartedly recommend this pillow!!! You will have a wonderful nights' sleep!"
No more tossing & turning
"Short dress in a printed viscose weave with a round neckline, opening with a button at the back of the Seams with small frill trims at the waist and on the sleeves and skirt. Unlined."
Great Support
"This is the first pillow I really enjoy sleeping with. I love I can adjust how much or how little cushion to use and it's really comfortable for me to sleep with. It supports my head perfectly all night even with me tossing and turning all night long. Really do love these pillows."
No more headaches since this pillow
"I LOVE my new pillow. I haven't slept this well in a long time. SUPER comfortable. I would wake up with headaches, neckaches.. That is no longer an issue. I won't be purchasing any other brand pillows in the future!!"
No more neck pain
"I suffer from neck & lower back pain & I have been trying to find the right pillow & now I have! Since using this pillow I have not had a migraine and I have been able to sleep through the night and wake up without pounding headaches! I HIGHLY RECOMMEND THIS PILLOW!"
Super Comfortable
"I purchased this pillow a little over 2 months ago. Everytime I lay on it it's like the first time. It's so comfortable. I don't wake up with neck pain or headaches anymore. This pillow knows me. Buy this pillow. You will not regret it."
Finally I can sleep
"Ive had severe neck and shoulder pain and headaches for years no matter what pillow I tried. But now finally thats ended since I started sleeping with my new pillow! I also love that I can add or subtract the amount of stuffing."
Worth Every Penny
"I've been sleeping with it for four nights now and I haven't woken up needing to adjust my pillow to get comfortable again since night one! No more stiff neck or shoulders and no pounding headaches!! Worth every penny!"
Love it so much
"This was the best money I have ever spent! I'm a side sleeper & always woke up with left neck and shoulder pain as well as a headache on my left side. Not anymore. I LOVE my pillows!!!"
What's so great about Sidney Sleeps Pillow?
We're glad you asked. The Sidney Sleep Pillow is a very unique combination of soft and supportive. Our proprietary blend of Certipur-US Certified shredded memory foam gives you a super plush feel that supports your head and neck in whatever position you decide to sleep in. 
The curved shape contours to your body ensuring you are aligned and wake up without any aches and pains.In addition to being hypoallergenic, the bamboo cover runs cool, meaning no tossing and turning from overheating… and did we mention it's machine washable?Fall in love with sleep again and wake up not hating your alarm clock.
Can I return if not satisfied?
Here at Sidney Sleep HQ, we want to empower you to try our curve pillow risk-free for 100 days and see whether you are happy with your results. If you are not satisfied, we will fully refund you within 100 days of your order. Only shipping is non-refundable (note our bundle options already come with free shipping). But we have a feeling you and Sidney will get along just fine.
Do you offer a warranty or guarantee?
We offer a 5 year warranty on all materials and workmanship. Examples of this may include stitching or seams becoming undone from natural wear, the flattening or changing of the shape of the pillow.
How do i adjust my pillow?
Our Sidney Sleep pillows are filled with shredded memory foam making them fully adjustable. To do this, just open the zipper on the inner lining and add or remove as much fill as you need to match your sleeping style and support needs. Here's what we recommend: 
Side sleepers should aim for a pillow that is more supportive, with a higher loft profile (add fill).  A higher loft will provide some nice pressure relief in your shoulder, and hold your head in neutral alignment with your spine ensuring that your head doesn't gradually sink down, out of neutral alignment with your spine.  
Back sleepers should aim for a "happy medium." This means that the loft should not be too high, or too low either, (remove a little fill) however, back sleepers often alternate between the supine and lateral positions.  
Stomach Sleepers in order to keep neutral alignment should use a pillow with low loft, and soft firmness (remove a lot of fill) to support the natural curvature of your spine, and make sure your head/neck is not craned upwards.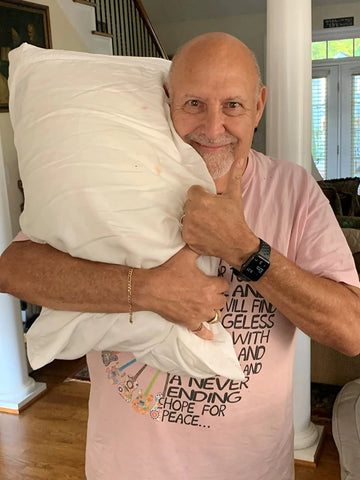 Why 1000's of Families Sleep With Sidney
"I am 71 years old and probably could lose some weight. I am a side sleeper with rotator cuff problems. Before getting this pillow, I would toss and turn from my left side to my right side all night. I would try my stomach and my back. but I just can't sleep like that. My first night sleeping on my Sidney Side Sleeper pillow, the first thing I noticed was that I did not have to extend my arm underneath the pillow for height. The second thing I noticed was that I woke up in the morning comfortable and pain-free. I was sure I would have to spend thousands of dollars on a pricey mattress...and this pillow solved the problem. Best investment in my health and quality of life...ever. This pillow is a blessing.."