This pillow makes it suck less*
Created with materials and technology that
have been traditionally used to help improve:
ACHES &
PAINS*
TOSSING &
TURNING*
OVERHEATING*
ALLERGIES*
Over 1000 Satisfied Sleepers
Don't take our word for it. See what our customers have to say about Sidney Sleep's adjustable, curved pillow!
Highly Recommend
"The Sidney Sleep Pillow is the first pillow that I can say makes me look forward to going to bed. I wholeheartedly recommend this pillow!!! You will have a wonderful nights' sleep!"
No more tossing & turning
"Fantastic pillow!! I have finally been getting quality sleep since I started using this pillow. No more tossing and turning. Very happy with it!"
Great Support
"This is the first pillow I really enjoy sleeping with. I love I can adjust how much or how little cushion to use and it's really comfortable for me to sleep with. It supports my head perfectly all night even with me tossing and turning all night long. Really do love these pillows."
No more headaches since this pillow
"I LOVE my new pillow. I haven't slept this well in a long time. SUPER comfortable. I would wake up with headaches, neckaches.. That is no longer an issue. I won't be purchasing any other brand pillows in the future!!"
No more neck pain
"I suffer from neck & lower back pain & I have been trying to find the right pillow & now I have! Since using this pillow I have not had a migraine and I have been able to sleep through the night and wake up without pounding headaches! I HIGHLY RECOMMEND THIS PILLOW!"
Super Comfortable
"I purchased this pillow a little over 2 months ago. Everytime I lay on it it's like the first time. It's so comfortable. I don't wake up with neck pain or headaches anymore. This pillow knows me. Buy this pillow. You will not regret it."
Finally I can sleep
"Ive had severe neck and shoulder pain and headaches for years no matter what pillow I tried. But now finally thats ended since I started sleeping with my new pillow! I also love that I can add or subtract the amount of stuffing."
Worth Every Penny
"I've been sleeping with it for four nights now and I haven't woken up needing to adjust my pillow to get comfortable again since night one! No more stiff neck or shoulders and no pounding headaches!! Worth every penny!"
Love it so much
"This was the best money I have ever spent! I'm a side sleeper & always woke up with left neck and shoulder pain as well as a headache on my left side. Not anymore. I LOVE my pillows!!!"
Shop Our Pillows
Our specially designed, hypoallergenic, good-slee-guaranteed pillows are the heart and soul of Sidney Sleep. See the difference for yourself.
Regular price
From $59.99
Sale price
From $59.99
Regular price
$79.99
Regular price
From $59.99
Sale price
From $59.99
Regular price
$79.99
Regular price
From $29.99
Sale price
From $29.99
Regular price
$34.99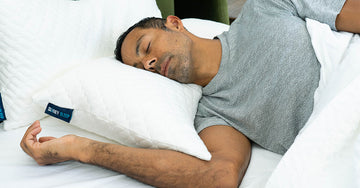 100 Night Sleep Trial
Take 100 nights to sleep on your purchase. Love it
or return for a full refund.