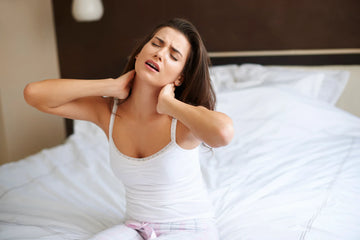 Ensure the Best Sleep of Your
Life by Following These 8 Tips
1. Improve Your Sleep Schedule
That's the number one suggestion provided by the US National Sleep Foundation. Forget about going to bed at 11pm one day and at 2am the next. Irregular sleeping schedules mess with your circadian rhythm – the inner clock that tells your body when to be alert and when it's time for relaxation.
While sticking to a schedule could be difficult in the very beginning, you'll soon find out that your internal clock is adjusting and you're starting to feel sleepy at the exact same time each night.
Falling asleep quickly is an added bonus of the strategy.
2. Choose the Right Pillow!
A comfortable and supportive pillow is an absolute essential if you want to enjoy deep and restorative sleep every single night.
Understand the fact that pillows have a certain lifespan and it's a good idea to upgrade the one you use if it's been in your bedroom for several years already.
While the market features so many products, pillows are not created equal. The quality of the filling, the height and the shape of the pillow matter.
We recommend our hypoallergenic, supportive and adjustable Sidney Sleep Side Sleeper Bamboo Pillow due to the proprietary blend of filling materials that ensure optimal support and comfort.
3. Exercise More Often
Do you need one more reason to start working out? Here it is – exercise helps you fall asleep faster and it improves sleep quality.
Northwestern University Department of Neurobiology and Physiology researchers found out that people who do aerobic exercise four times per week have improved sleep quality and they feel less tired during the day than their peers. 
4. Sleep on Your Back
What's your sleep position? Did you know it could impact sleep quality. 
Optimal sleep is achieved by sleeping on your back. This position ensures proper neck and back support. In addition, it reduces the risk of experiencing acid reflux after a larger evening meal.
If you are a side sleeper, you should choose the right pillow to give your neck enough support.
Sidney Sleep Side Sleeper Bamboo Pillow is one such choice designed for the people who prefer the particular position. The unique butterfly shape fits the arch of the shoulder and contours the head in an optimal way.
5. Get Some Sunshine during the Day
While it's not a good idea to have any kind of light in your bedroom during the night, sunlight exposure during the day can enhance your sleep quality.
Sunlight, just like your daily schedule, affects those circadian rhythms. In addition, it has a positive impact on the hormonal balance to keep you alert during the day and help you fall asleep at night.
Studies show that exposure to sunlight in people suffering from insomnia reduces the time it takes to fall asleep by 83 percent!
6. Control Your Bedroom Temperature
Apart from having the right pillow and mattress, you should also look into other bedroom factors that could be affecting sleep quality.
Some studies suggest that bedroom temperature has a more profound impact on sleep quality than noise.
A temperature of approximately 20 degrees Celsius (70 degrees Fahrenheit) is considered optimal but you may want to adjust the thermostat on the basis of your personal observations.
7. Do Something Relaxing Before Going to Bed
Your body needs some time to make the switch from daytime activity to nighttime peacefulness.
If you still feel quite alert before going to bed, you should get in the habit of enjoying some relaxing activity in the evening.
Listening to music, doing a bit of meditation or reading a favorite book have all been proven to help you fall asleep faster.
8. Get Rid of the TV
A TV in the bedroom has become something normal. Surveys show that 64 percent of households have a television in the master bedroom.
If you want better sleep, you should get rid of the TV, the computer or the gaming console in your bedroom.
Falling asleep in front of the TV exposes you to the kind of light that can mess up with your circadian rhythm.
These are just eight of the things you can do to have better sleep at night.
As you can see, most of these steps are pretty simple and they can quickly contribute to massive improvements in sleep quality.
Investing in a good pillow is one example of the steps you can undertake to fall asleep faster and wake up energized in the morning.
Check out the Sidney Sleep pillow and see how you can get BETTER SLEEP TODAY.
Are you tired of tossing and turning at night,
struggling to get the sleep you need?

Tossing and turning and constantly waking up to adjust the pillow. Can't sleep through the night. Waking up tired and wanting to smash the alarm clock? If you're nodding your head while reading these symptoms, the solution is closer than you think. The Sidney Sleep Shredded Memory Foam Pillow is designed to give you the support you need to maintain the natural curve of your neck helping to keep your body ideally aligned while sleeping.
One Size Fits All
Announcing the QUICKEST & EASIEST Way to ensure yousleep through the night and wake up not wanting to smash your alarm clock. The Sidney Sleep pillow allows you tochange the thickness and loftof your pillowin just seconds. Simply unzip the breathable Bamboo cover and add or remove fill, customizing your loft size in seconds, easily.Eliminate neck and back painand get thecustomizable supportyou need with Sidney Sleep Adjustable pillows.
Over 1000 Satisfied Sleepers
Highly Recommend
"The Sidney Sleep Pillow is the first pillow that I can say makes me look forward to going to bed. I wholeheartedly recommend this pillow!!! You will have a wonderful nights' sleep!"
No more tossing & turning
"Fantastic pillow!! I have finally been getting quality sleep since I started using this pillow. No more tossing and turning. Very happy with it!"
Great Support
"This is the first pillow I really enjoy sleeping with. I love I can adjust how much or how little cushion to use and it's really comfortable for me to sleep with. It supports my head perfectly all night even with me tossing and turning all night long. Really do love these pillows."
No more headaches since this pillow
"I LOVE my new pillow. I haven't slept this well in a long time. SUPER comfortable. I would wake up with headaches, neckaches.. That is no longer an issue. I won't be purchasing any other brand pillows in the future!!"
No more neck pain
"I suffer from neck & lower back pain & I have been trying to find the right pillow & now I have! Since using this pillow I have not had a migraine and I have been able to sleep through the night and wake up without pounding headaches! I HIGHLY RECOMMEND THIS PILLOW!"
Super Comfortable
"I purchased this pillow a little over 2 months ago. Everytime I lay on it it's like the first time. It's so comfortable. I don't wake up with neck pain or headaches anymore. This pillow knows me. Buy this pillow. You will not regret it."
Finally I can sleep
"Ive had severe neck and shoulder pain and headaches for years no matter what pillow I tried. But now finally thats ended since I started sleeping with my new pillow! I also love that I can add or subtract the amount of stuffing."
Worth Every Penny
"I've been sleeping with it for four nights now and I haven't woken up needing to adjust my pillow to get comfortable again since night one! No more stiff neck or shoulders and no pounding headaches!! Worth every penny!"
Love it so much
"This was the best money I have ever spent! I'm a side sleeper & always woke up with left neck and shoulder pain as well as a headache on my left side. Not anymore. I LOVE my pillows!!!"
What Makes Us So Special?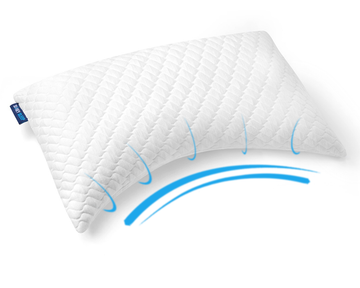 Best Neck Support
The curved shape contours to your shoulders, centering your head on the pillow providing firm yet soft support and relieving you of any neck pressure and pain you may get.
Customizable for You
Our dual layer design allows you to effortlessly add and remove shredded memory foam to create the ideal sleeping support. Want an extra firm pillow? Or a more comfy pillow? The choice is yours.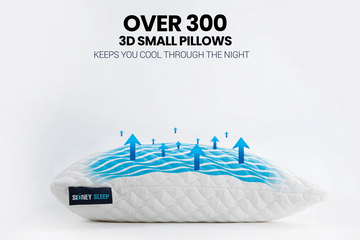 No More Overheating
Our pocket design improves airflow and breathability, promoting superior air circulation and temperature control so the pillow stays nice and cool all night long.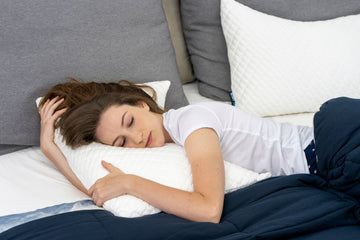 Hypoallergenic
Anti-allergy and anti-bacterial technologies keep Sidney users from waking up with puffiness, acne, and rashes caused by long-term allergen and bacterial exposure.
Us Vs Them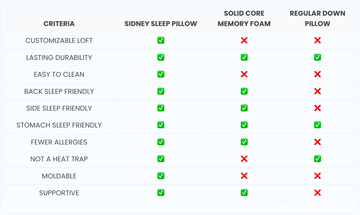 What's so great about Sidney Sleeps Pillow?
We're glad you asked. The Sidney Sleep Pillow is a very unique combination of soft and supportive. Our proprietary blend of Certipur-US Certified shredded memory foam gives you a super plush feel that supports your head and neck in whatever position you decide to sleep in. 
The curved shape contours to your body ensuring you are aligned and wake up without any aches and pains. In addition to being hypoallergenic, the bamboo cover runs cool, meaning no tossing and turning from overheating… and did we mention it's machine washable? Fall in love with sleep again and wake up not hating your alarm clock.
Can I return if not satisfied?
Here at Sidney Sleep HQ, we want to empower you to try our curve pillow risk-free for 100 days and see whether you are happy with your results. If you are not satisfied, we will fully refund you within 100 days of your order. Only shipping is non-refundable (note our bundle options already come with free shipping). But we have a feeling you and Sidney will get along just fine.
Do you offer a warranty or guarantee?
We offer a 5 year warranty on all materials and workmanship. Examples of this may include stitching or seams becoming undone from natural wear.
How do i adjust my pillow?
Our Sidney Sleep pillows are filled with shredded memory foam making them fully adjustable. To do this, just open the zipper on the inner lining and add or remove as much fill as you need to match your sleeping style and support needs. Here's what we recommend: 
Side sleepers should aim for a pillow that is more supportive, with a higher loft profile (add fill).  A higher loft will provide some nice pressure relief in your shoulder, and hold your head in neutral alignment with your spine ensuring that your head doesn't gradually sink down, out of neutral alignment with your spine.  
Back sleepers should aim for a "happy medium." This means that the loft should not be too high, or too low either, (remove a little fill) however, back sleepers often alternate between the supine and lateral positions.  
Stomach Sleepers in order to keep neutral alignment should use a pillow with low loft, and soft firmness (remove a lot of fill) to support the natural curvature of your spine, and make sure your head/neck is not craned upwards.